Anxiety weighs down the heart, but a kind word cheers it up. - Proverbs 12:25
BOOKS
Kelly has written one book and contributed to twelve compilation books. These are Affiliate Links.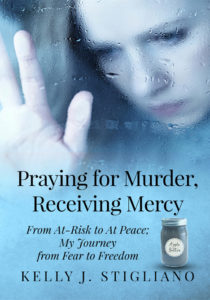 Praying For Murder, Receiving Mercy: From At-Risk To At Peace; My Journey From Fear To Freedom
Stories from Kelly's life have been published in anthologies, magazines, and newspapers. Now she has her own book with those stories and many more. Part One of this book is dedicated to women in at-risk relationships and the people who love them. Part Two is dedicated to single mothers and the people who love them. The whole book is dedicated to anyone who needs to receive hope and embrace forgiveness. Available in:
Audiobook on USB card. The size of a credit card, this audiobook is ready whenever you are. Just pop it into your computer or car USB port and let Kelly read to you. It's like having coffee with a (chatty) friend!
[sharethis-inline-buttons]